Backed by our expertise, high level of service, our dedication as well as our contacts within the shipping industry in Malta, CSB Group is uniquely able to offer an integrated service for our clients' shipping requirements. As a one-stop shop, CSB Group is one of the Malta-based specialists in shipping services with the necessary expertise to handle a variety of services including the registration under the Malta Flag.

The Sixth Largest Ship Register Globally
Malta has maintained its position as the sixth largest ship register in the world, and holds the top spot as the largest tonnage register in Europe. Today, the Maltese flag has earned the confidence of reputable ship owners, ship financiers and ship management companies as attested by the increasing registered tonnage.
The Malta Flag is also referred to as the flag of confidence for the following reasons:
Serious and efficient maritime administration
Flag state inspectorate to ensure adherence to international standards
Twenty four hours, seven days a week service in respect of urgent matters
Sound multilateral and bilateral relations
Active participation in international shipping fora
Registration of Vessels under the Maltese Flag
The registration of vessels under the Maltese flag takes place firstly by provisional and subsequently by permanent registration. Provisional registration is normally valid for six months and may be extended up to one year, by which time permanent registration must be completed. Upon expiration of this period, if the vessel has not been permanently registered, registration must commence anew and the appropriate forms re-submitted and fees paid anew.
Permanent Registration under the Malta Flag
In order to obtain permanent registration certain documentation will be required and it is important to note that the MSD may impose additional specific requirements depending on the different types of vessels. The permanent Certificate of Malta Registry is renewable on an annual basis and an annual fee is due to MSD. Renewal is due annually from the date of initial registration.
Administration of Vessels under the Malta Flag
Besides providing shipping services, the MSD is also responsible for the regulation, control and administration of all matters related to merchant shipping, the certification of seafarers, the fostering of Malta's relations in international shipping fora, and the administration and implementation of international maritime conventions and agreements.
Eligibility and Registration Procedures of Ships
One of the major benefits of the Maltese flag is the fact that there is no limitation on the type of vessel which may be registered. Hence, any type of vessel may be registered, even ships under construction.
To be eligible there is, however, the requirement of the ship to be fully owned by European Union citizens or by corporate bodies of any nationality.
Furthermore, there is also a requirement relating to the age of the ship to be registered:
Ships between the age of 10 and 15 years must pass an inspection either

before

obtaining provisional registration

or no longer than one month after

obtaining provisional registration.

Ships between 15 years and 25 years must necessarily undergo and pass an inspection

before

being provisionally registered.

Practice dictates that ships over 25 years are not registered.
Following eligibility, the ship undergoes a registration procedure which entails provisional registration, to be followed by permanent registration.
Provisional registration requires various documentation, including but not limited to, the International Tonnage Certificate and proof of seaworthiness. The registration procedure is then completed by the attainment of a permanent registration, which requires further documentation such as a builder's certificate or some other registry document.
This 2-step registration procedure allows a vessel to be registered (albeit provisionally) and thereby operate within a few days, while then giving time to the vessel owner to gather documentation and conclude permanent registration.
Advantages of Registering a Ship in Malta
There are several benefits that attract clients to register their vessels with the Maltese flag. Malta is strategically positioned in the heart of the Mediterranean at the crossroads of a number of important shipping routes. The Malta flag is a flag of confidence and a flag of choice, making Malta's Ship Register one of the largest and most reputable ship registers in the world. All types of vessels may be registered under the Malta flag and may avail of the benefits available under Maltese law.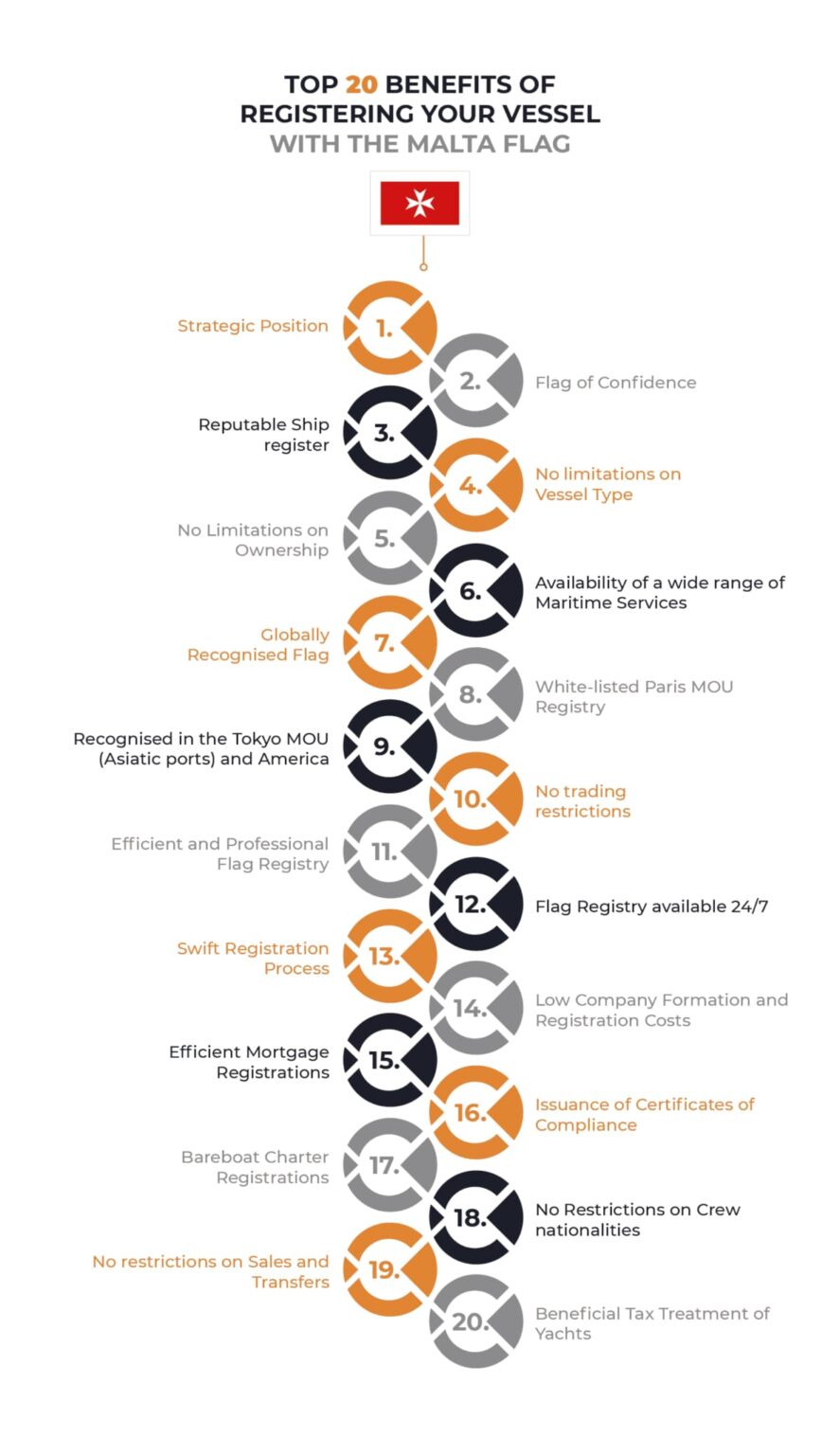 Any individual or entity, wherever they may be established or situated, may register their vessels under the Malta flag. Entities or individuals who are not resident in Malta may register their vessels under the Malta flag through our appointment as resident agents, such that we would act as their representatives before the Maltese flag authorities.
The main advantages of registering a vessel under the Malta flag are the following:
Malta is an international maritime centre providing a whole range of maritime services;
The Maltese flag is a globally recognised flag;
The Maltese Ship Registry is in the top 20 white-listed Paris MOU Registries and has also achieved good recognition in the Tokyo MOU (Asiatic ports) and America;
The Maltese flag has also met the criteria for low-risk ships, for the Paris MoU;
The Maltese jurisdiction has adopted and implemented all major International Maritime Conventions;
The Maltese flag allows the registration of all types of vessels including pleasure yachts, commercial yachts, ships, and oil rigs;
No trading restrictions apply for vessels registered with the Malta flag;
Vessels less than 25 years old may be registered with the Malta flag;
Transport Malta, as the authority responsible for shipping in Malta is one of the largest registers worldwide operating efficiently and professionally;
Transport Malta offers a twenty-four-hour, seven days a week service in respect of urgent matters;
Vessels would not need to enter Maltese territorial waters for the purposes of registration;
Malta offers low shipping company formation costs;
Malta boasts of low ship registration and tonnage tax costs;
Transport Malta has efficient processes in place for the purposes of registering vessels with the Malta flag and any mortgages thereon;
It is possible to obtain a provisional certificate within days allowing vessels to navigate whilst further formalities are being satisfied for the subsequent issuance of a permanent certificate;
Transport Malta issues Certificates of Compliance for yachts to operate as commercial yachts;
Maltese vessels may be bareboat charter registered with other flags.
In the case of personal use of yachts, individuals need not incorporate companies and may register their yacht in their own name;
Progressive reduction in registration and tonnage tax costs for younger ships;
No restriction on the nationality of the master, officers, and crew;
No restriction on the sale or transfer of shares of a company owning Maltese ships;
No restriction on the sale and mortgaging of Maltese ships;
No trading restrictions;
Beneficial tax treatment;
Ships may be registered in the name of individuals and legally constituted corporate bodies or entities irrespective of nationality.
Should you be interested in registering your vessel with the Malta flag, get in touch with us at [email protected] so that one of our Shipping Advisors may be able to guide and advise you further.
Why are so many ships registered in Malta?
Malta has become a popular destination for ship registration due to its favorable tax laws and regulations. The Maltese flag offers a competitive tax regime with no restrictions on the nationality of the ship owner, allowing for ease of business and flexibility. Additionally, the Maltese Maritime Authority is known for its efficient registration process, reliable services, and proactive approach to safety and security. Malta is also strategically located at the crossroads of major shipping lanes, making it an ideal choice for vessels operating in the Mediterranean and beyond. Overall, Malta's combination of favorable policies, efficient registration process, and strategic location have made it a top choice for ship registration.
Automatic exemptions from the payment of income tax on income derived from shipping activities, donation and succession duty on the capital and stamp duties payable on sale and transfer on Maltese vessels of 1000 net tons or over. Under certain circumstances, after filing an application in accordance with Government policies, Maltese vessels under 1000 net tons may also benefit from said exemptions.
Favourable treatment to yachts practising commercial operations due to various tax incentives, such as:
the Tonnage Tax regime based on the tonnage specifications, exempting any income derived by a licensed shipping organisation that owns, charters or operates a tonnage tax ship from being liable to pay any income tax in Malta.

VAT exemptions on maintenance costs, chartering, fuelling, provisioning necessary for the vessel and crew/passengers' supplies, provided that the place of supply is Malta.

VAT exemptions when a Maltese shipping company purchases a yacht for commercial purposes.
Edward Meli
Assistant Manager - Maritime & Commercial
Contact
Luana Agius
Junior Regulated Industries Advisor
Contact


Shipping & Yachting Services
We offer the following related services.
I have been using CSB Group in Malta to register our company and our ship under the Malta flag, and have always been completely satisfied with their performance. They do an excellent job, are always punctual, and offer the most competitive rates in Europe! A young and Smart team! We have also involved them on occasion for extra legal jobs, and recently I am using their accounting service to fulfil the VAT requirement and to complete our balance sheets. I'm happy to recommend the services of CSB Group.
Paolo Orlandi
Kite Investimenti Limited of Cyclos II
This is to express my absolute satisfaction in my dealings with Sacha Farrugia in the process of opening my company over the last few weeks. I was really blown away with their level of professionalism and customer service. They went above and beyond to ensure that all of my questions and curiosities were met and understood, and their level of knowledge was excellent. I would have no problem recommending your company to others in the future and will continue to use your services myself.
Phoenix Classic Charters Limited
Need our assistance with shipping & yachting services?
CSB Group is authorised by the MFSA to register vessels under the Maltese flag in terms of the Company Service Providers Act, 2013. Get support from our specialised professionals.