European Citizenship by Investment
European Citizenship by Investment


Backed by our team of Citizenship Advisors and excellent working relations with a legal team, we will be able to assist you in every part of the path to gain a second citizenship through investment or alternative residence. With a global mindset and high expertise in the Investor Immigration arena, we will be manage your EU citizenship by investment application and ensure that your expectations are met at every stage.
European Citizenship by Investment
The concept of being granted a European passport by investment is highly popular with high-net-worth families and individuals. This is due the fact that European countries enjoy safety, education and healthcare among many other factors.
The option to apply for European Citizenship by Investment will give you and your family the possibility to obtain a passport from a country within the European Union granting not only visa-free access but relocation within the EU.
In one of the most desired geographical areas to reside and do business, some European Countries offer Citizenship by Investment programmes. The eligibility, financial requirements and processing time required to be granted with an EU passport by investment varies from one country to the another.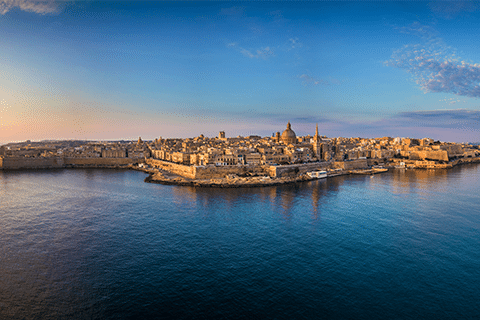 Malta Citizenship by Investment
Aims to attract high standard and reputed applicants from all over the world, who are interested in gaining security, flexibility and the opportunity to have a base in the European Union.
Ways to Becoming an EU Citizen
By Birth
If you're looking to obtain EU citizenship through descent, you'll need to have an ancestor - usually a parent - who was born in the EU. However, depending on the country you're applying to, you may still be eligible even if your grandparents or great-grandparents were EU citizens.
Getting European citizenship through ancestry can be one of the easiest and most affordable ways to obtain an EU passport - as long as you meet the criteria. Your ancestors, such as your parents or grandparents, must not have given up or lost their nationality and must still be entitled to it, even if they are no longer living in the EU.
If you are considering applying for EU citizenship through ancestry, there are a few steps you'll need to take. Firstly, you'll need to gather all the necessary documents, which typically include proof of your ancestor's European citizenship such as a passport, birth certificate, marriage certificate, death certificate or refugee documents. Once you have all the required documents, you'll need to fill out the application form and submit it along with the supporting documents to your nearest EU mission abroad.
In general, the fees can range from several hundred euros up to EUR 1,000, which include service and administration fees. However, this amount does not take into account any additional legal fees or costs associated with obtaining the required documentation.
By Registration
The Maltese Citizenship Act (Cap 188) outlines the requirements for individuals seeking to register as citizens of Malta. This includes those who are second or subsequent generations born abroad.
The following are eligible to apply for Maltese citizenship by registration:
Spouses of Maltese citizens who have been married for at least five years and are still living with the citizen of Malta at the time of application,

Widows/widowers of individuals who were Maltese citizens at the time of their death, provided the widow/widower was married and living with the deceased person for at least five years,

Widows/widowers of individuals who were Maltese citizens at the time of their death, and who would have been married to the person for five years on the date of application if not for their death,

Widows/widowers of individuals who died before September 21, 1964, and who would have automatically become Maltese citizens if not for their death (due to being born in Malta to a parent who was also born in Malta, or being born abroad to a father and paternal grandparent who were both born in Malta), provided the widow/widower was living with the deceased person at the time of their death,

Children born before September 21, 1964, to a female born in Malta who became or would have become a Maltese citizen on that date if not for her death,

Children of female Maltese citizens who were born outside of Malta between September 21, 1964, and August 1, 1989, and whose mother was a citizen of Malta at the time of their birth,

Former citizens of Malta who do not automatically qualify for dual citizenship because they have not resided abroad for at least six years, or who were formerly citizens of Malta by registration or naturalization,

Descendants in the direct line of an ascendant born in Malta to a parent likewise born in Malta. If the descendant is a minor, the person who has authority over the minor must submit the required documentation, along with documentation empowering them to do so.
By Naturalisation
Becoming a naturalised citizen in Europe can be achieved by living and working in an EU country for at least five years, although this requirement may vary depending on the country. The application process for naturalisation differs from country to country. Additionally, demonstrating proficiency in the language of the EU country where you reside is a prerequisite for citizenship by naturalisation.
Another way to obtain European citizenship is by marrying an EU citizen. In most EU countries, you can qualify for naturalisation three years after marriage. However, if your partner is not an EU citizen, both of you must meet the citizenship criteria, before applying.
Individuals who wish to apply for Maltese citizenship by naturalisation based on residency in Malta must fulfill certain requirements. These requirements include being a foreigner or stateless person, having resided in Malta continuously for at least 12 months prior to the date of application, and having lived in Malta for a total of at least four years during the six years preceding the aforementioned 12-month period. Applicants must also be of good character, possess adequate knowledge of either Maltese or English, and be suitable candidates for Maltese citizenship.
Those who are not of full age but wish to apply for citizenship can do so with the authorisation of the Civil Court (Voluntary Jurisdiction), and the language proficiency requirement will not apply to them. Before submitting an application, the applicant must schedule an appointment with the Agency and provide their current and expired passports covering their period of residency in Malta.
Upon confirmation of eligibility, additional documents will need to be submitted to proceed with the application process.
By Investment
If you have the financial means, you can acquire EU citizenship through citizenship by investment schemes, otherwise formerly known as Golden Visas. These programmes enable you to invest in an EU country, and in exchange, you can apply for citizenship and become an EU passport holder.
The specific investment opportunities and the required investment amount for these citizenship programmes vary from country to country. Real estate and government contributions are common investment options.
Citizenship requirements typically include spending a certain amount of time in the country each year, but no language proficiency is required.
Some of the most popular EU citizenship investment schemes include Malta, which offers a direct pathway to citizenship within three years if you purchase real estate for at least €700,000. An expedited option is also available for those who invest a minimum of €750,000, which allows you to get a Maltese passport within a year. Other investment options include government contributions and donating to an approved organisation.
Expert Guidance on Acquiring Your Dream Property and Meeting Investment Requirements
We recognise that property investment is a significant decision that should not be taken lightly. At CSB Group, in collaboration with our associated brand, Malta Sotheby's International Realty, our property consultants will introduce you to the finest real estate options. These properties not only fulfill the criteria for these programmes but also offer a promising opportunity for a profitable investment.
Who can apply for EU Citizenship
The criteria for European citizenship vary depending on the country and the method of obtaining citizenship. However, in general, individuals who have lived and worked in an EU country for a minimum of five years (or more depending on the country), and who can demonstrate language proficiency, may be eligible for citizenship by naturalisation.
Additionally, individuals and their families, who invest in an EU country through citizenship by investment schemes, and meet the investment and residency requirements, may also be eligible for citizenship. It's important to note that the specific requirements for obtaining European citizenship vary from country to country and depend on the specific citizenship programme or scheme.
European Countries Offering Route To Citizenship
Malta
Malta is the only country in the EU that offers citizenship through a Citizenship by Investment Programme (The Maltese Citizenship by Naturalisation for Exceptional Services by Direct Investment). It allows individuals to acquire Maltese citizenship in as little as 12 months, by making a significant financial contribution to the country.
Cyprus
Naturalization based on years of residence
Foreign individuals who have lived in Cyprus for a cumulative period of 7 years are eligible to apply for citizenship. They must demonstrate continuous residence in Cyprus during the last year before submitting their application. However, if the applicant is either a child or a parent of a Cypriot citizen, the required residence period is reduced to 5 years.
Cyprus citizenship by marriage
Foreign spouses of Cypriot citizens can apply for citizenship after completing 3 years of marriage and living in Cyprus for 2 years before the application date.
Spouses of Cypriots residing abroad can also apply for citizenship after being married for at least three years. In this case, the couple must provide reasons for seeking Cypriot citizenship. However, if the couple has been married for five years and has at least one child, the reason for seeking citizenship is not necessary.
Cyprus citizenship due to the origin
There are three types of Cypriot citizenship applications based on descent:
Application for Consular Birth Certificate
Minors or adults born abroad after August 16, 1960, whose father was a Cypriot citizen at the time of their birth. Minors or adults born abroad after June 11, 1999, whose mother was a Cypriot citizen at the time of their birth.
Application for Registration of Minors
Minors born before June 11, 1999, either in Cyprus or abroad, whose mother is a Cypriot citizen and whose father is a foreigner. Minors whose father acquired Cypriot citizenship after their birth. Minors whose father or mother gained Cypriot citizenship through naturalization or registration due to marriage with a Cypriot citizen.
Adult applicants
Adults born on or after August 16, 1960, whose parents were not Cypriot citizens at the time of their birth.
Portugal
The Portuguese Golden Visa programme offers a path to citizenship in five years.
Residency by Investment Eligibility
Non-EU adults with a clean criminal record can apply for residency in Portugal through a qualifying investment known as the Portugal Golden Visa.
Once you make the qualifying investment and receive your Golden Visa, it takes five years to become eligible for citizenship. The Portuguese language test can be taken at any time before applying. The naturalisation process itself typically takes around six months. The investment options for Portuguese citizenship by investment include capital transfer, real estate investment, job creation, Portuguese fund investment, and scientific research investment.
Spain
Obtaining Spanish citizenship can be achieved through four main avenues, each with its own set of requirements.
Citizenship by Residency
This is the most commonly known method. If you have been a legal resident in Spain for a specific number of years, you can apply for Spanish citizenship through naturalization. To qualify, you need to enter Spain with a valid residence permit, renew it as required, and fulfill the time requirement based on your circumstances.
The specific duration depends on various factors, such as family ties and country of origin:
10 years is the general rule
5 years if the individual is a refugee
2 years if the individual comes from a Latin American country, Andorra, Equatorial Guinea, the Philippines, or Portugal. In these cases, one can retain their original nationality, and dual citizenship is permitted.
Just 1 year if one is married to a Spanish national or if one is a child or grandchild of Spanish citizens born in Spain.
An individual must have resided continuously for the required number of years.
Greece
The Golden Visa Programme for Greece offers a residence-by-investment opportunity to individuals who contribute significantly to the Greek economy. While there are various investment options available, the most common path involves purchasing real estate valued at a minimum of €250,000.
The Greece Golden Visa provides immediate five-year residency to the investor and their immediate family members, along with the freedom to travel within the Schengen Zone.
Obtaining Greek citizenship is possible through investment in Greece and acquiring a Golden Visa. However, it's important to note that unlike residency, you cannot apply for Greek citizenship without physically residing in the country and fulfilling tax obligations. A minimum of seven years of living in Greece is required before becoming eligible to apply for citizenship.
Furthermore, it is necessary to demonstrate connections to the country and possess a basic understanding of the Greek language and culture in order to meet the citizenship requirements.
The Malta Citizenship By Investment - The Only Programme That Offers Direct Citizenship in EU
The Malta Citizenship By Investment Programme has gained widespread recognition as the only initiative that grants direct citizenship within the European Union (EU) through investment. This exclusive programme provides a unique opportunity for individuals seeking to obtain EU citizenship, offering a host of advantages and opportunities that come with being an EU citizen. The Malta Citizenship By Investment programme has emerged as an esteemed option, attracting discerning investors and global citizens alike who aspire to secure the benefits and privileges associated with EU citizenship.
Malta, a small Mediterranean island nation, has distinguished itself as a hub of economic growth, political stability, and cultural richness. The country's strategic location, coupled with its robust economy and attractive lifestyle, make it an ideal destination for individuals seeking to establish a European identity. Through the Malta Citizenship By Investment program, eligible applicants can obtain Maltese citizenship, which in turn grants them the highly coveted status of an EU citizen.
The Malta Citizenship By Investment program offers numerous advantages that extend beyond the realm of residency or a mere visa. Unlike other investment programs in EU member states, this initiative provides direct access to full citizenship rights, including the freedom to live, work, and study anywhere within the EU. EU citizenship holds significant value, as it encompasses a range of benefits such as visa-free travel to numerous countries worldwide, access to high-quality education and healthcare systems, and enhanced business opportunities within the EU's vibrant economic market.
To qualify for the Malta Citizenship By Investment programme, applicants must fulfill specific criteria established by the Maltese government. One of the primary requirements is making a significant investment in Malta's economy. Each investment avenue has its own set of financial thresholds, ensuring that applicants make a substantial commitment to Malta's economic development.
In addition to the financial aspect, applicants must undergo a stringent due diligence process, designed to ensure that only individuals of good repute are granted Maltese citizenship. This vetting process ensures the integrity and reputation of the program, safeguarding Malta's interests and upholding its commitment to maintaining a high standard of integrity in the citizenship acquisition process.
Furthermore, applicants must demonstrate a genuine connection to Malta, which can be established through residency and fulfillment of certain obligations. This requirement underscores the programme's emphasis on promoting a sense of community and fostering meaningful ties to the country. It also aligns with Malta's cultural values and commitment to integrating new citizens into its vibrant society.
The Malta Citizenship By Investment programme has garnered global acclaim for its robust due diligence procedures, transparency, and efficiency. The government of Malta has meticulously designed the program to attract high-caliber investors while safeguarding the country's reputation and ensuring the utmost security. By upholding rigorous standards and adhering to international best practices, Malta has established itself as a leading destination for individuals seeking to acquire EU citizenship through investment.
In conclusion, the Malta Citizenship By Investment programme stands as a distinguished opportunity, offering direct access to EU citizenship through investment. With its myriad advantages, including the right to live, work, and study in the EU, this program appeals to discerning individuals who recognize the value of EU citizenship and the unique benefits it confers. Malta's commitment to maintaining stringent due diligence standards, promoting cultural integration, and fostering economic growth.
Cost of Obtaining EU Citizenship
Obtaining citizenship in different countries comes with varying time-frames and costs. In Malta, citizenship can be acquired within 12 months, and costs approximately EUR 1 million.
Main Benefits of Obtaining European Citizenship
Freedom of Movement
European citizenship grants individuals the right to freely travel, live, work, and study within any of the member countries of the European Union (EU). This enables individuals to explore new opportunities, experience different cultures, and take advantage of the EU's vast job market.
Visa-Free Travel
EU citizens enjoy visa-free or visa-on-arrival access to numerous countries worldwide. This facilitates hassle-free international travel and eliminates the need for obtaining visas for many popular destinations, making it easier to explore the world.
Access to Healthcare and Education
European citizens have access to high-quality healthcare systems and education facilities within the EU. This ensures that individuals and their families can benefit from comprehensive medical services and pursue educational opportunities without the constraints faced by non-citizens.
Employment Opportunities
EU citizenship provides individuals with access to a diverse and robust job market. It allows them to work in any EU member state without the need for work permits or visas, opening up a wide range of career options and enhancing employability.
Social Benefits and Welfare
European citizens are entitled to various social benefits and welfare programs provided by EU member states. These benefits may include unemployment benefits, pensions, maternity and paternity leave, and social security benefits, ensuring a safety net for individuals and their families.
Political Rights and Participation
EU citizens have the right to participate in the political processes of EU member states, including the ability to vote in local and European Parliament elections. This empowers individuals to have a voice in shaping the policies and decisions that affect their lives.
Business and Investment Opportunities
European citizenship facilitates business and investment opportunities within the EU. It allows individuals to establish companies, access funding programs, and benefit from the EU's favorable business environment, promoting entrepreneurship and economic growth.
Cultural Exchange and Diversity
European citizenship provides the opportunity to engage in cultural exchange and embrace the diversity of the EU. It allows individuals to connect with people from different backgrounds, languages, and traditions, fostering a sense of unity and appreciation for multiculturalism.
Access to EU Institutions
EU citizens have the privilege of engaging with and benefiting from EU institutions and initiatives. They can seek support, guidance, and resources from various EU agencies and organizations, facilitating collaboration and participation in EU-funded projects.
Enhanced Rights and Protections
European citizenship ensures the protection of fundamental rights and freedoms guaranteed by EU law. This includes protections against discrimination, access to justice, and the ability to seek assistance from EU authorities in case of violations of rights.
Frequently Asked Questions
What is Golden Visa in Europe?
Golden Visa is a residency-by-investment programme in Europe that allows non-EU citizens to gain residency by investing a substantial amount in the country's economy.
Can US Citizens Get EU Citizenship?
US citizens cannot directly obtain EU citizenship, but they may be eligible for citizenship in an EU member state through residency and naturalization requirements.
What Are The Advantages of Schengen Visa?
Schengen Visa allows visa-free travel within 26 European countries, making travel convenient, promoting tourism and business opportunities, and saving time and costs for travelers.
Which EU Country Gives Direct Citizenship?
Malta is the only EU country offering direct citizenship.
Which EU Country Has The Easiest Citizenship Process?
Malta is the only EU country offering citizenship by investment.
Citizenship & Residence Planning Services

We offer assistance with the following programmes.
Thank you for making everything run perfectly smooth for us. Your team looks after us as if we were their parents and they are everything one can wish for; accurate, fast and with a vast knowledge. We are very fond of CSB Group and we are more than content.
Retired Swiss Entrepreneur
We have had the good fortune of working with Andres and his team at CSB on a variety of citizenship and residency matters for our clients. CSB has given us thoughtful and thorough advice and been an invaluable partner. Despite being many time zones and thousands of miles away, Andres and his team are incredibly responsive and willing to speak at any hour of the day. We would certainly recommend them to anyone seeking best-in-class legal advice related to global citizenship and residency issues.
An independent investment office
We chose Malta as our new permanent home and CSB Group to help us through the residency process. They went way beyond our expectations treating our application as if it were their own. Their service was nothing short of stellar from understanding our needs preparation of the required documentation, and follow-up phase during a period with the sharpest movement restrictions. Malta deserves a place on every investor's radar, mostly because of the surprising efficiency permeating the place, efficiency which starts with CSB.
'I approached CSB Group in late 2022 to open a discretionary family trust. CSB have the right set up and an experienced and friendly team who helped me act on the pressing investment decisions of the trust and with opening a bank account quite smoothly. While I took the decision to establish the trust with caution, now that it is up and running, I am pleased with the result.'
UK Expat Residing in Malta
Relocating to another country is a challenging endeavor however, the support of the team at CSB Group, made a significant difference. Their guidance throughout the process instilled a sense of security and confidence, ensuring a successful outcome. Special thanks go to Michela, who displayed professionalism, and promptness, and who treated my case as if it were her own. I will always be grateful!
Family Reunification Client
'I want to applaud CSB Group, and specifically Malcolm Ferrante and Michela Pace for their endless patience, relentless dedication, speedy efficiency, and personal attention when it comes to establishing my Tax Residency in Malta in record time. The whole process was managed as promised, above and beyond my expectations. Undoubtedly highly recommended!'
Need our assistance with Citizenship & Residence Planning services?
CSB Group has more than 35 years of experience and the expertise needed to help you with all your immigration service needs.